Acquia Cloud for the rest of us
You might already know about the Acquia Cloud offering and maybe you're also an Acquia customer already (thank you!). If you're not and/or if you've always wanted to know more about what kind of Drupal hosting Acquia provides, I highly encourage you check out Acquia Cloud Free. Yes, it's a completely free Drupal hosting. There are a few limits and one of them is you cannot have a live site running on it. But it's perfect to discover the product or even play with dev sites and leverage great tools such as the Acquia Cloud development platform but also have access to QA Tools (Acquia Insight), hosted Apache Solr search (Acquia Search), Mollom (content moderation) and the Acquia knowledge base.
Set up a new subscription
First things first, visit the https://insight.acquia.com/free page. You need to either log in to your existing Acquia Network account or create a new account on the fly before being able to create your free subscription. The below screen capture shows a standard wizard when you're already logged in. Pretty straightforward, right? You also have the possibility to provision your subscription in the European Union, Australia and Singapore so that you get a minimal latency with the Amazon AWS availability zones, depending upon where you live.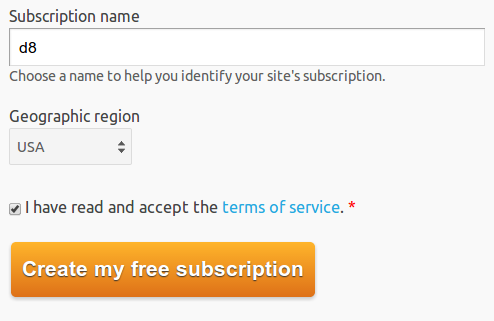 Create a new free Acquia Cloud subscription
When you're ready, click on the Create my free subscription button. This will provision your subscription within ~2mn.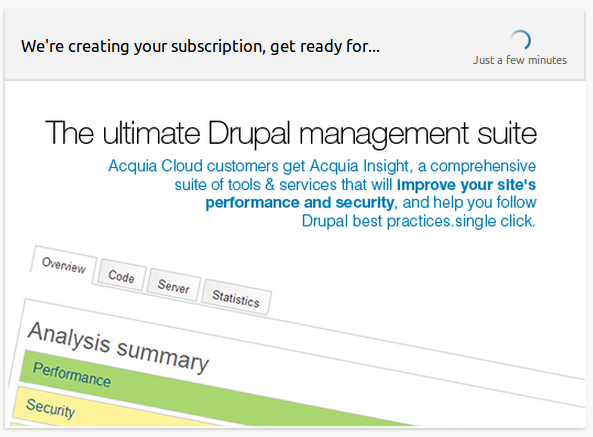 Subscription is being provisioned on the Amazon AWS availability zone of your choice
Configure your Acquia Cloud Free subscription
Once your subscription is available, a Getting started window will show up to guide you through the most common tasks required to set up your Drupal site.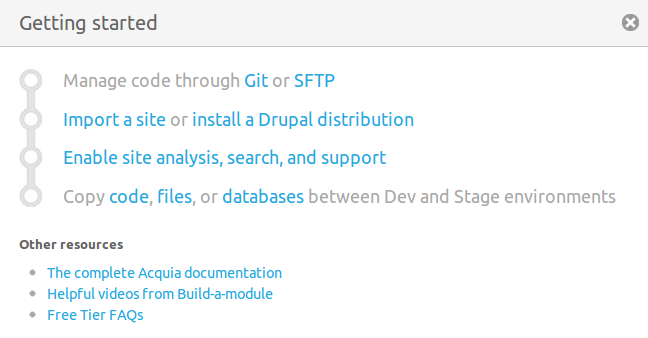 The tour helps new users they make their way through the Acquia Cloud Free subscription
Basically, it requires two things: add your public SSH key and clone your Git repo locally. The "tour" will provide you with helpful tooltips for you to immediately understand where to start from.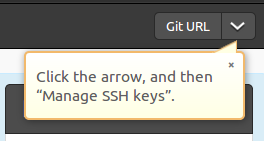 The tour helps new users they quickly know where to add their SSH public key
Once your SSH public key has been added, it'll show up under your Users and keys page from within your subscription. Next, you're ready to clone your repo locally, and again, the "tour" will assist you with this process.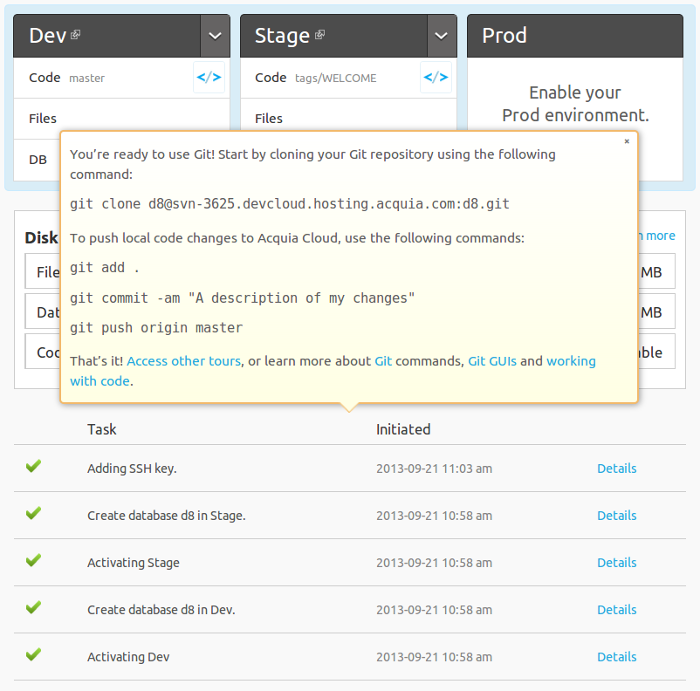 The tour will guide you through cloning your git repository locally
That's it. In less that 10mn you've been able to provision a completely free Drupal hosting environment and get instant access to an outstanding platform and tools. Enjoy!
---
---
Date
September 20, 2013
---
---